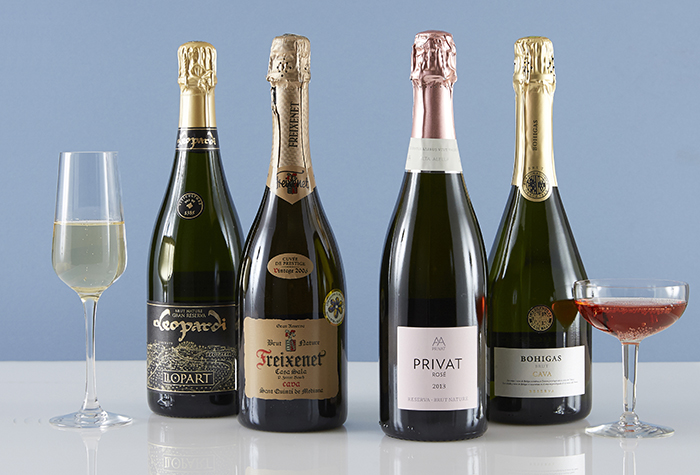 Cava is a sparkling wine of Denominación de Origen (DO) status from Catalonia. It may be white (blanc) or rosé (rosat). The Macabeu, Parellada and Xarel·lo are the most popular and traditional grape varieties for producing cava.Only wines produced in the traditional method may be labelled "cava"; those produced by other processes may only be called "sparkling wines" (vins escumosos). About 95% of all cava is produced in the Penedès area in Catalonia, with the village of Sant Sadurní d'Anoia being home to many of Catalonia's largest production houses.The two major producers are Codorníu and Freixenet. Cava is also produced in other villages in Aragon, Castile and León, Extremadura, La Rioja, Basque Country, Navarre and Valencia.
In the past, cava was referred to as "Spanish champagne", which is no longer permitted under European Union law, since Champagne has Protected Geographical Status (PGS) and Spain entered the EU in 1986. Colloquially it is still called champán or champaña in Spanish or xampany in Catalan. Today it is defined by law as a "quality sparkling wine produced in a designated region" (Vino Espumoso de Calidad Producido en una Región Determinada, VECPRD).
The word xampany in catalan is not to be confused with xampanyet, which is a colloquial term referring to the non-traditional method sparkling wines. These xampanyet wines are generally cheaper, are served by the bottle at bars or restaurants specializing in them and hence these establishments are called by the same name, i.e. xampanyet. This is not cava, but it is a somewhat popular drink as well.