cotch whisky lovers the world over look forward to a special occasion every year otherwise known as the annual Diageo Special Releases. Interest has only grown stronger since Diageo Special Releases were made available in 2002, with each year's releases getting more exotic and rare.
Diageo's Special Releases for 2021 are no different, with the House pushing the boundaries with Augmented Reality (AR). Aside from the whiskies themselves, which we'll get into in a minute, a multimedia experience awaits you with each dram.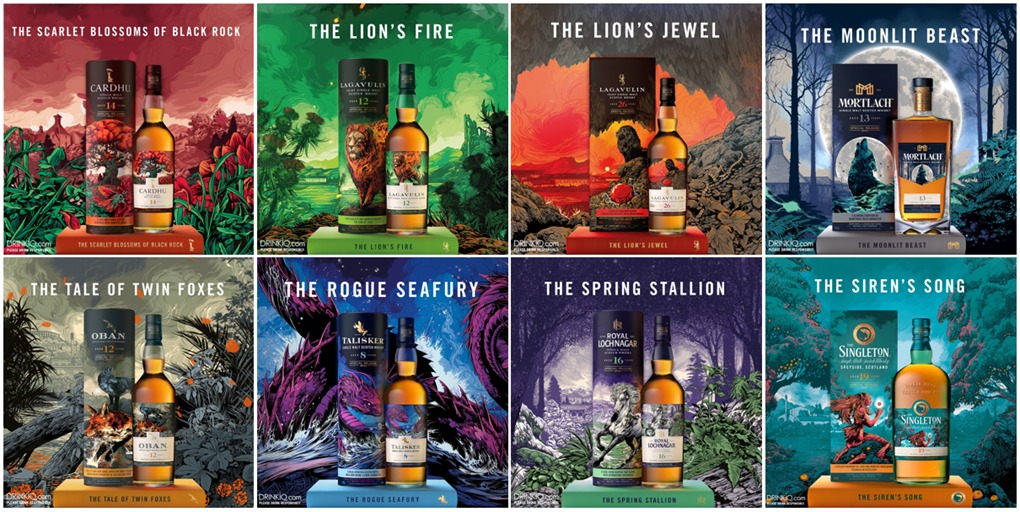 Scan the QR code on the back of each box or tube with your phone, and you'll be gifted an AR experience that invites you to enjoy stories, as read by Scottish actors Lorne MacFadyen and SIobhan Redmond, accompanied by imagery from acclaimed digital artist Ken Taylor (who also did the vivid imagery of the bottle designs), while you sip on your favourite dram.
Being cask strength single malts, each of these special releases are bottled directly from the respective cask that they were finished in. This results in stronger ABV of about 50% to 60% with the exception being if the whisky is of considerable age (like the 26 Year Old Lagavulin in this list), where the ABV will often drop to the mid to low 40s,
Now let's check out what Special Releases are in store for us from Diageo…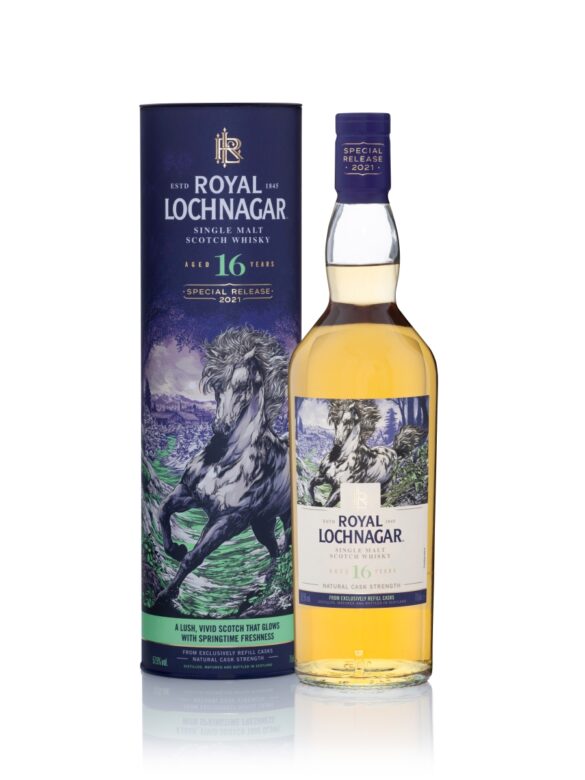 THE SPRING STALLION
ROYAL LOCHNAGAR 16 YEAR OLD, 57.5% ABV
Let's start with something rare for Special Releases. Royal Lochnagar isn't often featured by the House, and most whisky lovers might not have even tasted it yet, however, the single malt is representative of how pure whisky can get.
Matured in European and American oak, the classic mix of sherry and bourbon casks, this is a no nonsense whisky that just shows what a hardworking and dedicated distillery can achieve. Perfect balance.
Flavour-wise, the whisky has a aroma of green apples with a floral meadowy feel and tastes of smooth buttery pie and candied almonds.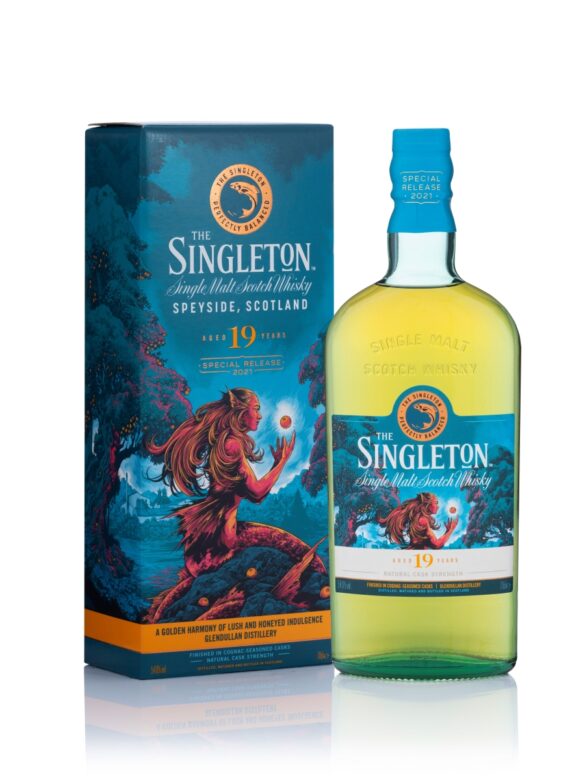 THE SIREN'S SONG
SINGLETON OF GLENDULLAN 19 YEAR OLD, 54.6% ABV
From something obscure to something more well-known, Singleton of Glendullan starts off in refill American oak and is finished in Cognac casks. Cognac casks are an ultra rare sight in Scotland yet alone at Diageo distilleries, so you know this is special.
The Glendullan bares a normal fragrant and floral character while it's Cognac finish doesn't overwhelm it.
On the tongue it's like caramel and sponge cake, with mint and butter toffee at the end.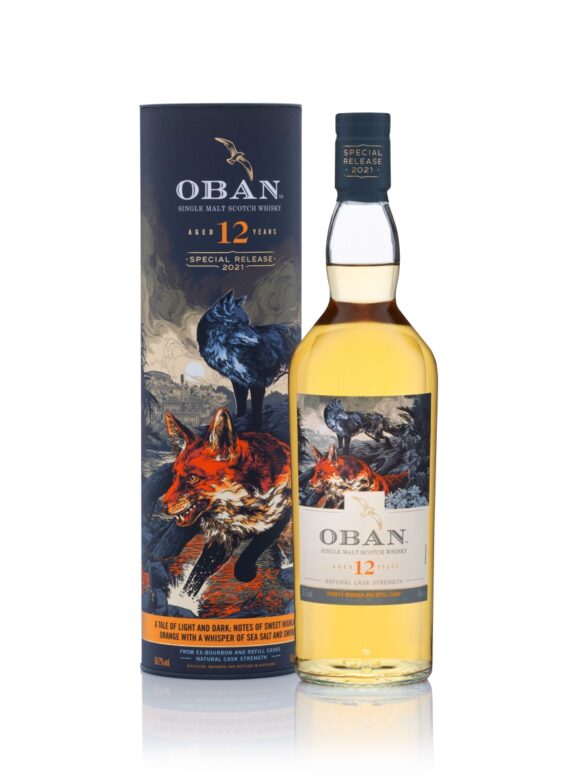 THE TALE OF TWIN FOXES
OBAN 12 YEAR OLD, 56.2% ABV
A rare sight in Malaysia, this particular Oban has an even rarer production method – maturing in freshly charred American oak old casks that have been stripped of their inside layer and recharred to give new life.
Removing the sharpness of virgin oak while adding more character to the whisky by using aged oak, this whisky might even be on the 'weirder' side to the uninitiated.
However, if you like an orange-citrusy dram, with its smokiness and sea spray intact, then this sweet and fruity whisky is for you.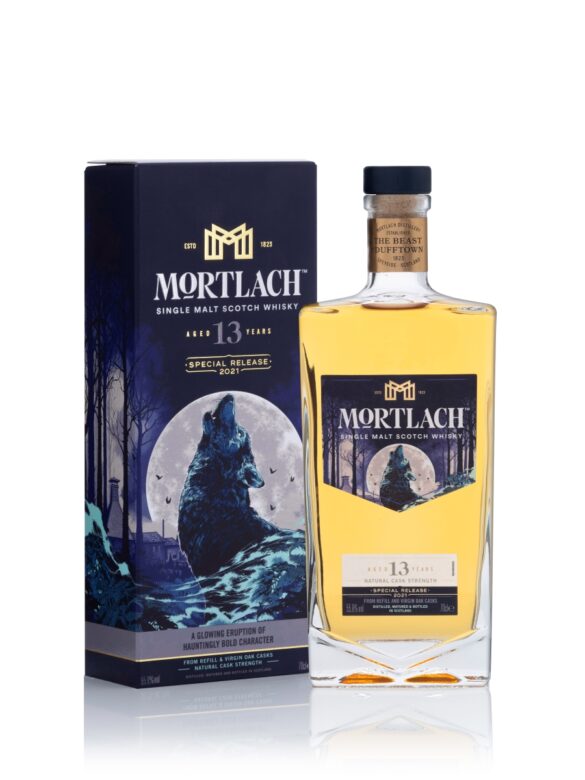 THE MOONLIT BEAST
MORTLACH 13 YEAR OLD, 55.9% ABV
If you're all about sherry casks then this beast of a whisky for you. With a bit of virgin oak and refill casks in its DNA, Mortlach's thick flavour and aroma makes it a perfect standalone drink or a suitable follow up midway into the night's session.
A meaty spirit with a lot of weight, it smells and tastes of burnt brown sugar with a vanilla finish.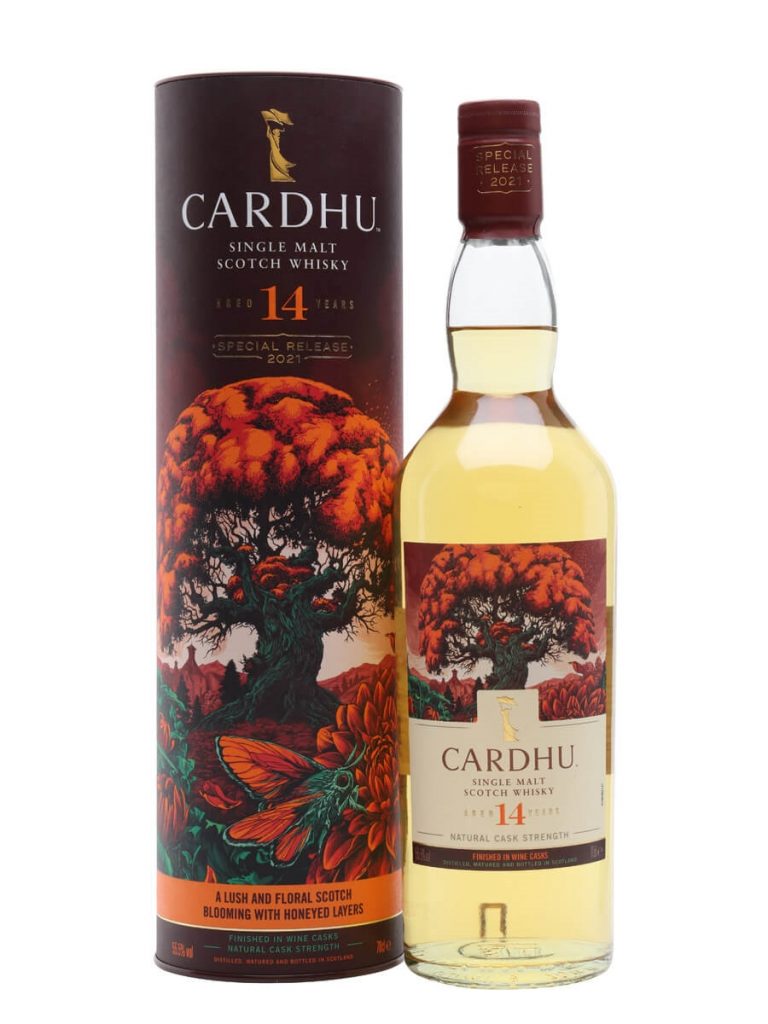 THE SCARLET BLOSSOMS OF BLACK ROCK
CARDHU 14 YEAR OLD, 55.5% ABV
A soft and easy-drinking drinking whisky for new single malt enthusiasts. This refined take on classic whisky mixes bourbon and sherry casks to create a sweet and spicy dram that represents Speyside.
The catch? A red-wine finish.
The result is a well-balanced, flavourful whisky that has hints of grapes, pears, whip cream and cinnamon.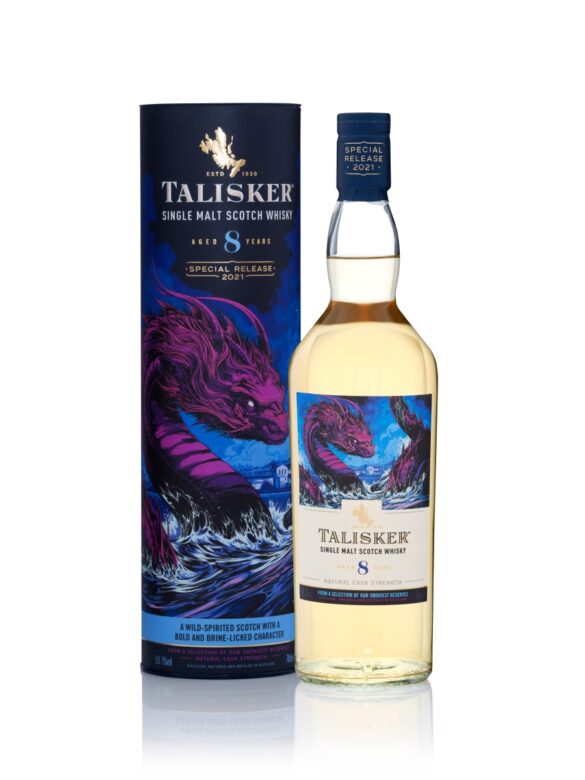 THE ROGUE SEAFURY
TALISKER 8 YEAR OLD, 59.7% ABV
Courtesy of the Skye distillery, this seafarer's whisky is chocked full of salt-and-pepper and smoky, maritime style.
Matured with heavily-peated refill casks, the phenol levels in the matured spirit were read and only those with the highest readings – the smokiest casks – were used for this release. How smokey can a Talisker get? This special release will be your introduction to the distillery's smokey side.
On the nose you get all of its goodness – salt and pepper over oaky peat dampened by the aroma of barley and fruits at the end. After the smoke settles on the palate, the taste of chocolates, liquorice and anise, follows.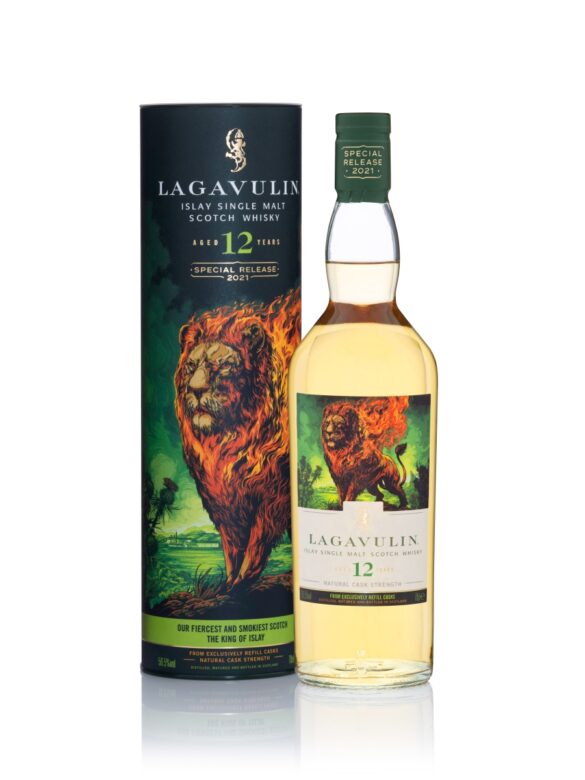 THE LION'S FIRE
LAGAVULIN 12 YEAR OLD 56.5% ABV
It's a 12-year-old, cask-strength Lagavulin from refill American oak casks that should need no introduction.
A mainstay of the Special Releases, appearing every year since the first full release in 2002. Heading towards a fresher, sea-drenched style, this plucky 8-year-old is something to remind us that Lagavulin isn't limited to it signature smoke.
From zesty lemon cheesecake to peaty scents of crispy beef strips to its minty chocolate finish, this whisky, like the Talisker, pairs perfectly with a steak or meat dish.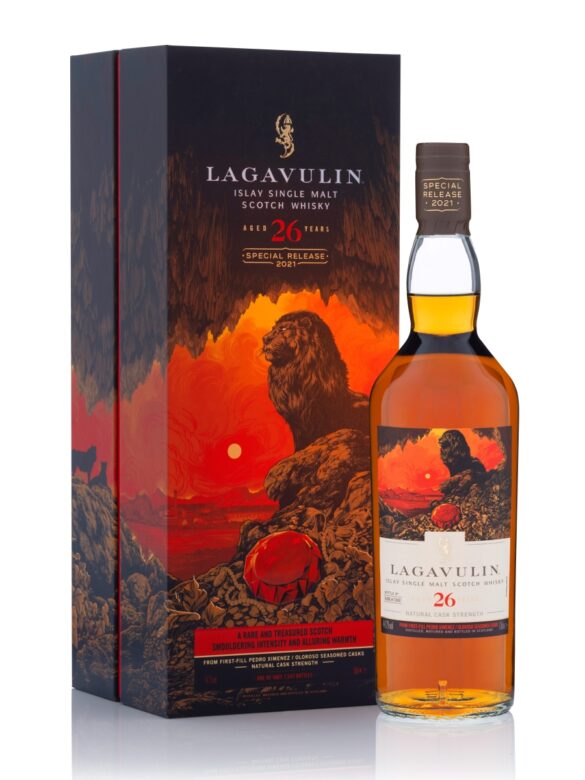 THE LION'S JEWEL
LAGAVULIN 26 YEAR OLD, 44.2% ABV
As mentioned at the start of this write-up, the longer a cask-strength scotch matures, the lower it's ABV. However, achieving a high ABV isn't the objective in creative world-class whiskies. It is the journey that matters the most, and Lagavulin went on an epic one.
Matured solely in first-fill oloroso and PX sherry casks, from the onset, this whisky was out of the ordinary. 26 years of sherry maturation is not only a shocking long time to keep whisky in sherry casks, it's a miracle that a whisky can keep its unique profile after the duration. But lo and behold, this whisky does and rightfully earns its name in the line as 'The Lion's Jewel'.
Soft and sweet notes of apple, pineapples and peat collide with nutmeg, cinnamon and clove giving a zing on the nose. As it hits, prepare for a hint of pepper, barbecued apples and grilled pineapple, soften by soft cinnamon spice, mint and dark chocolate.
[PRE ORDER] IF STOCK IS AVAILABLE , 2-3 WORKING DAYS
[READY TO SHIP] READY STOCK