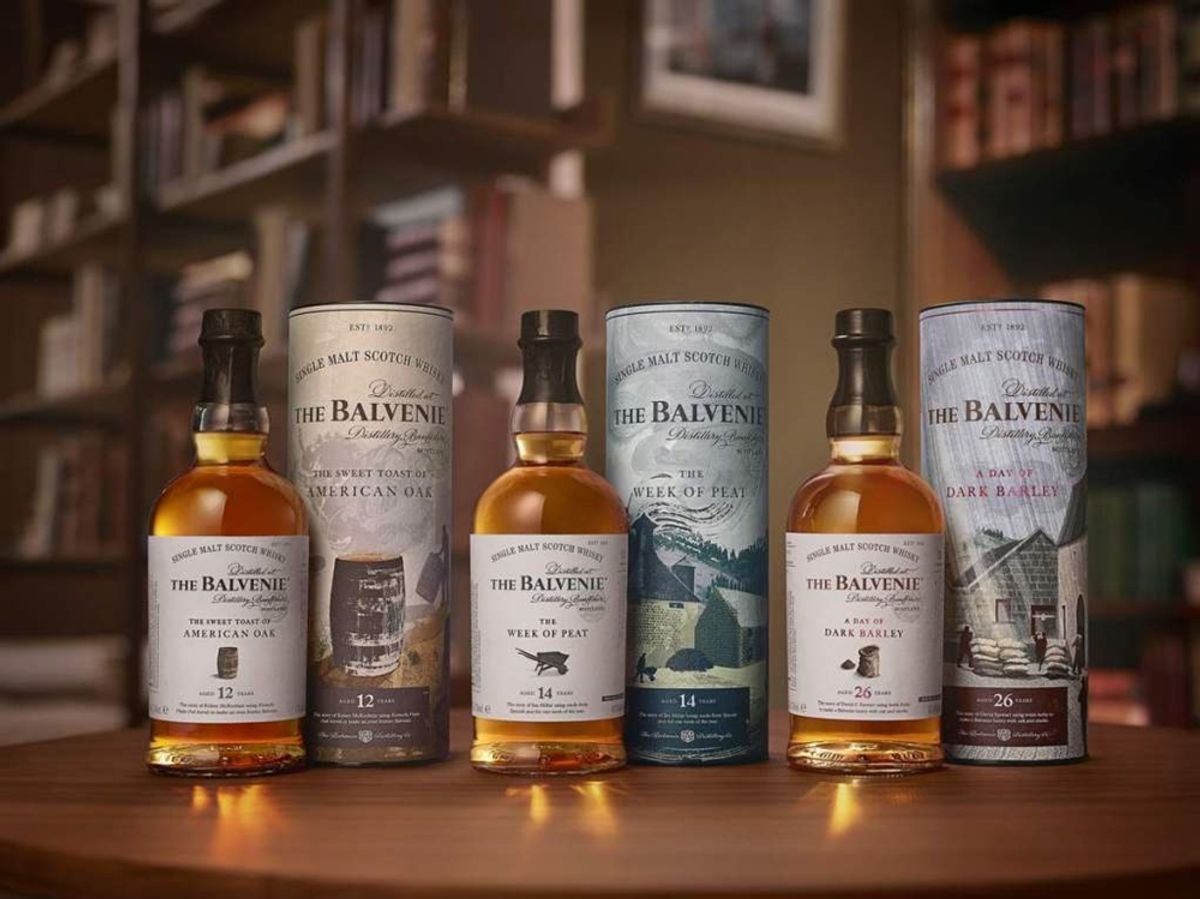 The Balvenie Stories: Three new single malts released
Stories about heavily peated malt, dark malt and double toasted virgin oak
It has been known for some time that The Balvenie will release a series of three new single malts. Now this new series "The Stories" has been launched, the bottlings are on market and The Balvenie has begun to promote the whiskies in social media and with press releases. Stories are told about the releases that show very different character, not only in writing, but also in "Audiobooks". Gemma Patterson, Balvenie Global Brand Ambassador, talks about the background of the whiskies and with people involved in their development and production. These stories can be listened to for example on the Balvenie homepage and they will also be available as podcasts.
The three bottlings are The Week Of Peat, A Day Of Dark Barley and Sweet Taste Of American Oak.
The Week Of Peat, 14 years
This is an old acquaintance in a new design: The Week Of Peat replaces the previous Peat Week. Since distillery manager Ian Miller first came up with the idea of using heavily-peated malt in 2002, The Balvenie produces this untypical Balvenie annually for one week. The accompanying audiobook tells the history of the creation of the Week Of Peat and takes the audience to the barley fields. It also concludes a warehouse tasting with Malt Master David Stewart and Warehouse Coordinator Georg Paterson. The Week Of Peat presents a strong 48.3% ABV.
Tasting notes:
NOSE Gentle sweet peat smoke, lighter floral notes and delicate butterscotch honey.
TASTE Velvety and round to taste with the peat smoke balancing citrus flavours, oaky vanilla and blossom honey.
FINISH Gentle smoke with a lingering and creamy vanilla sweetness.
A Day Of Dark Barley, 26 years
This whisky was born as an experimental one when Malt Master David Stewart had the idea to use extremely dark roasted malt to make whisky, which is otherwise used to make dark beer. Maltman Robbie Gormley and Mashman Brian Webster remember the summer day of 1992, when the malt arrived at Balvenie. From this dark malt the 14-year-old roasted malt was already released and now follows the 26-year-old A Day Of Dark Barley, which has 47.8% ABV to offer.
Tasting notes:
NOSE Big malty notes, soft brown sugar, vanilla toffee, blossom honey and a mild oaky spiciness.
TASTE Syrupy with a toffee sweetness, some citrusy notes of tangy orange peel, followed by oak vanilla and a touch of cinnamon and ginger spices at the end.
FINISH Enduring gentle waves of vanilla and oak spices.
The Sweet Toast Of American Oak, 12 years
The special process of toasting the casks is talked about in the Audiobook, where Gemma Patterson first visits the Balvenie cooperage and then travels to Kentucky, the home of American oak barrels. She is accompanied by Malt Master apprentice Kelsey McKechnie, who developed this 12-year-old Balvenie, The Sweet Toast Of American Oak, together with Chief Cooper Ian McDonald. The casks of Virgin American oak were double toasted to give the whisky its special character. It was bottled with 43% ABV.
Tasting notes:
NOSE Lusciously malty with some sweet fudge, followed by citrusy and oak vanilla aromas with layers of spicy oak notes of ginger and cinnamon.
TASTE Candied orange and lemon peel, vanilla toffee and butterscotch, layers of blossom honey, some melted brown sugar and oak spices at the end.
FINISH Rich and malty with gentle waves of oak vanilla and subtle spices.